Firefighters have always played an important role in the Burn Foundation's mission. Over 30 years ago, in 1988, the employees of Doctors Hospital and the firefighters who brought in burn patients for treatment teamed up to create the Southeastern Firefighters Burn Foundation – which would later become the Burn Foundation of America – in order to assist the people who they often found sleeping in plastic chairs and in the hallways of the hospital as they anxiously awaited news of their loved ones being treated there.
Today, firefighters continue to get involved in many ways. From annual boot drives to hosting can trailers at their stations to serving on our Board of Directors, firefighters are there along every step of our mission. If you would like your department to get involved, email info@burnfoundation.net.
The Burn Foundation is proud to partner with 45 Fire Departments throughout the states of Georgia, Mississippi, North Carolina, and South Carolina.
Each year, dozens of fire departments throughout Georgia and South Carolina come together to support burn patients being treated at the Joseph M. Still Burn Center and their families by hosting Boot Drives. Hundreds of firefighters gather at various locations throughout their communities to collect money in their boots to benefit Burn Foundation of America. These generous donations provide services to our burn patients and their families, including lodging, meals, transportation, medication, and anti-scarring garments – all at no cost.
Firefighter hosted Boot Drives make up approximately 30% of the Burn Foundation's annual fundraising. Our firefighters' commitment to burn survivors and their families goes beyond the frontlines. Without their continued generosity and support, the Burn Foundation of America would not be what it is today.
Can't attend a boot drive near you?
If you, your department, or association is interested in hosting a Boot Drive in your area to benefit the Burn Foundation of America, please contact Jennyse Quinones at jquinones@burnfoundation.net or (706) 831-2555.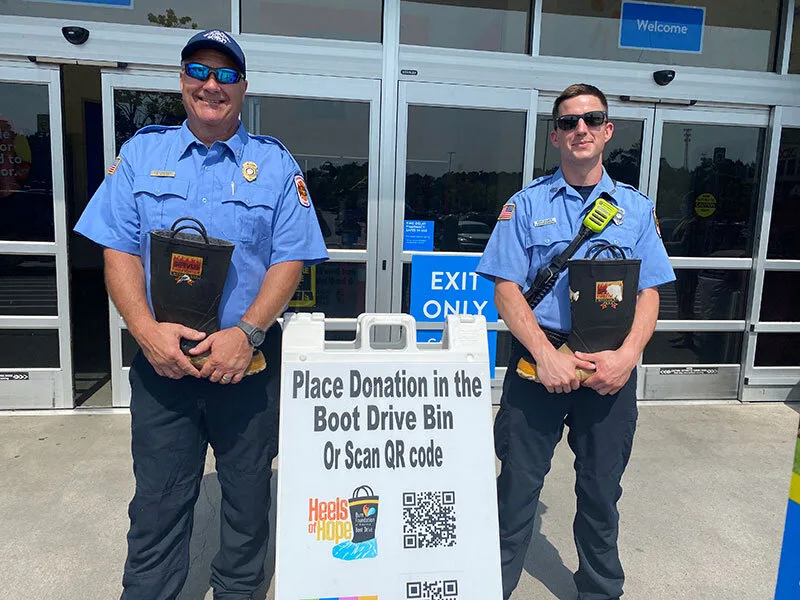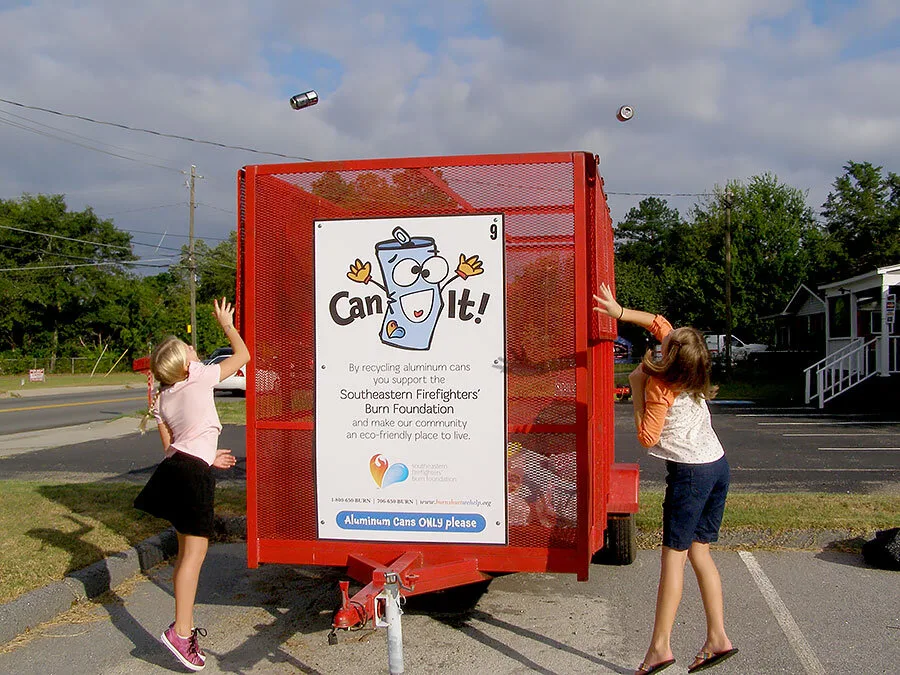 Fire departments throughout the Georgia-Carolina area host Can-It collection trailers which raised $24,144 last year.
ALUMINUM CAN RECYCLING
Save your aluminum cans and place them in a plastic trash bag. You CAN support the mission of the Burn Foundation and be kind to the environment by recycling aluminum cans. It's as easy as 1-2-3.
Collect your cans and place them in a plastic bag
Drop the bag in a Can-It trailer at one of the collection sites listed below.
Enjoy the satisfaction of helping burn patients while making our planet a nicer place to live.
For more information about how your fire department or organization can get involved, call 1-800-650-BURN
GEORGIA
ACBV COLLECTION CENTERS

Augusta Fire Department
1898 Highland Ave., Augusta, GA 30904 (Station #8)

3507 Walton Way Ext. Augusta, GA 30909 (Station #9)

1056 Alexander Dr., Augusta, GA 30909 (Station #10)

3705 Old Waynesboro Rd Augusta, GA 30906 (Station #17)

4185 Windsor Spring Rd., Hephzibah, GA 30815 (Station #18)
Centerville Fire Department
500 N Houston Lake Blvd. Centerville, GA 31028
Columbia County Fire Rescue
3910 Desoto Dr. Martinez, GA 30907 (Station #1)

518 Gibbs Road Martinez, GA 30809 (Station #2)

704 Fury's Ferry Road Martinez, GA 30809 (Station #3)

4590 Oakley Pirkle Martinez, GA 30907(Station #4)

5079 Hardy McManus Rd., Evans, GA 30809 (Station #5)

2264 William Few Pkwy., Evans, GA 30809 (Station #6)

1090 Old Louisville Rd., Grovetown GA 30813 (Station #9)

3141 Ray Owens Rd. Appling, GA 30802 (Station #10)

6383 Columbia Rd., Appling, GA 30802 (Station #12)
Commerce Fire Department
1491 S Elm St., Commerce, GA 30529
Doctors Hospital – Near Burn Center Entrance
3651 Wheeler Rd. Augusta, GA 30909
Garden City Fire Department
160 Main St., Garden City, GA 31408
Gray Fire Department
111 James St., Gray, GA 31032
Grovetown Department of Public Safety
306 East Robinson Ave. Grovetown, GA 30813
International Paper
4278 Mike Padgett Hwy, Augusta, GA 30906
City of Pooler Fire Rescue
1750 Quacco Rd. Pooler, GA 31322 (Station #4)
Port Wentworth Fire Department
317 Cantyre St. Port Wentworth, GA 31407 (Station #1)
Richmond Hill Fire Department
722 Timber Trail, Richmond Hill, GA 31324 (Station #2)
St. Teresa of Avila Church
4921 Columbia Rd. Grovetown, GA 30813
Southeastern Firefighters' Burn Foundation Business Office
3614 J. Dewey Gray Circle Bldg. C, Augusta, GA 30909
Southside Fire Department
10703 White Bluff Rd., Savannah, GA 31406

1831 East Montgomery Cross Rd., Savannah, GA 31406

155 Wilmington Island Rd., Savannah, GA 31410

553 McWhorter Dr, Savannah, GA 31411

1381 Dean Forest Rd., Savannah, GA 31405
Thomson Fire Department
228 McCommons St., Thomson, GA 30824
SOUTH CAROLINA
ACBV COLLECTION CENTERS
Aiken Public Safety
251 Laurens Street NW Aiken, SC
Beech Island Fire Department
1565 Sandbar Ferry Rd. Beech Island, SC
Belvedere Fire Department
204 Hampton Ave. Belvedere, SC
Bluffton Fire Department
357 Fording Island Rd. Bluffton, SC
Blythewood Fire Department
435 Main Street Blythewood, SC
Clarendon Fire Department
219 Commerce Street, Manning, SC
Donaldson Fire Department
2291 Perimeter Rd., Greenville, SC 29605
Edgefield Fire Department
402 Main St., Edgefield, SC 29824
Kimberly-Clark
246 Old Jackson Hwy., Beech Island, SC 29842
Lexington County Fire Department
447 Oak Dr., Lexington, SC 29073 (Station #9)
Merriwether Fire Department